Solution: Ceilings
Product: Linear Ceilings
View details and specifications for this product by selecting your country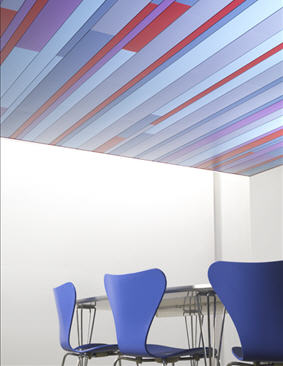 Luxalon brings a whole new perspective to linear metal ceilings with exiting new colour designs inspired by nature's colour palette.
Spring
Clean linear ceilings in pastel colours create subtle depth and texture and bring a new perspective to ceiling design.
With fine nuances in colour, the desire to look up is hard to resist.
Autumn
Design harmony using complementary colours and unexpected contrasts, gives this linear ceiling a strong view point that defines the space.
Winter
Cool Arctic tints of silver combined with white and opalescent gloss give this linear ceiling a brilliantly clean palette for cool serene design.
Available in different panel types and widths, the new Luxalon colour range has been created with over 40 colors and gloss levels for unlimited design expression.
Luxalon is the trademark of Hunter Douglas linear metal ceilings.

© Hunter Douglas. All rights reserved.