Sector: Office/Commercial Space
Location: Denver, Colorado
Architect/Specifier: Zimmer Gunsul Frasca
Product: H200 motorized aluminum blinds, aluminum vertical blinds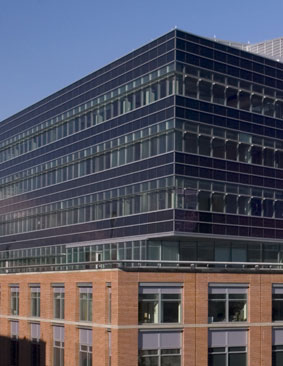 Seeing a powerful way to promote resource conservation throughout the Rocky Mountains, the U.S. Environmental Protection Agency (EPA) pursued a LEED rating of Silver for its regional home office in Denver. It exceeded that goal, and staked its claim as one of Colorado's few high-performance buildings.
Designed by Zimmer Gunsul Frasca, the EPA's leased nine-story building teems with environmentally conscious components. Its two-story lobby and a striking full-height atrium admit copious daylight for government workers to enjoy.
The double-L plan features markedly distinct window and material designs for sunward- and windward-facing zones. Brushed-aluminum H200 blinds by Hunter Douglas Contract are oriented vertically or horizontally depending on optimal interior illumination and energy performance.
All 1,400 blinds were motorized with a control system that tracks the sun according to a celestial clock. The tilt of the blinds also changes automatically, controlling glare and reducing heat loads.
Such state-of-the-art green solutions are characteristic of this EPA facility: Photovoltaic panels shave peak electrical loads. Mechanical systems include underfloor air distribution - still a rarity in the United States - and high-end controls and monitoring. Waterless urinals and dual-flush toilets conserve water. A green roof retains and filters storm-water runoff, while also reducing HVAC costs. To boost air quality, VOCs were minimized in material specifications and janitorial methods.
The building's operational practices bring special meaning to the EPA's mission. By encouraging recycling, bicycle commuting, and use of mass transit at nearby Union Station, the EPA makes vivid its commitment to protecting the United States, and the earth as a whole.
© Hunter Douglas. All rights reserved.