Product: Linear Ceilings
Solution: Ceilings
New light solutions for Luxalon Linear ceilings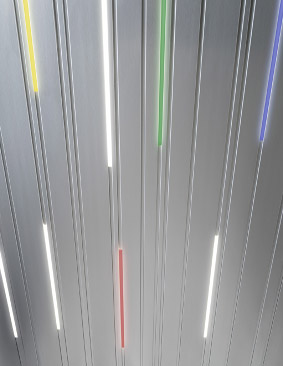 See the Light with Hunter Douglas Ceilings
Beautiful. Unusual. Unexpected. Create depth and drama with new Luxalon® linear ceiling solutions that maximize your freedom to design with light. Now you can capture, enhance, and contour light to create luminous ceiling designs.
Bands of Brilliance
For an understated lighting effect, work with Luminous joins. Luxalon® Multi Panel ceilings glow with this new detail that injects subtle bands of light that softly radiates from panel joins.


Cool Colours
Serene arctic tints of silver, white and opalescent gloss combined with a colour coordinated light armature that perfectly integrates into the ceiling, creates a cool, bright sense of interior light.


Magic Kaos
Luxalon® ceilings with Kaos perforation diffuse light with a magical effect. Kaos is surprising, exciting and very attractive for interior designers. Combine with coloured perspex panels and lighting placed behind for a ceiling design that glows with unique style.


© Hunter Douglas. All rights reserved.