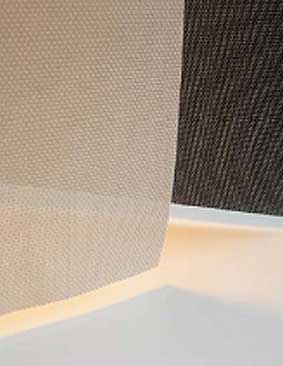 Enduris Glass Core
Enduris™ Glass Core
Hunter Douglas Contract introduces Enduris™ Glass Core technology for solar shading fabrics. The durability and stability of Enduris™ technology comes from the inside out, starting with a fiberglass strand that makes it naturally fire resistant, dimensionally stable, and resistant to expansion and stretching due to heat. An innovative vinyl coating protects the fiberglass, providing additional durability with UV inhibitors, adding flame resistance, and also making the fabric colorfast to light.
Enduris™ Glass Core Benefits
Superior coating uniformity and surface aspect
High resistance to temperature variations
Naturally fire resistant
Dimensionally stable - minimal stretching /sagging
Chemically inert
Non-rotting
Low thermal conductivity
UV inhibitors
Glass fiber yarns are a natural composite material
Easy to clean
Fabrics with Enduris Glass Core
© Hunter Douglas. All rights reserved.