Sector: Public space
Location: Chicago, Illinois
Architect/Specifier: Ryan Companies
Product: Techstyle Classic Series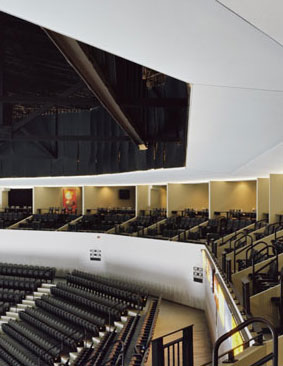 Multi-use facilities are becoming increasingly popular as arenas across the country look to attract patrons and provide audiences with high quality event experiences. The state-of-the-art Sears Centre Arena northwest of Chicago is a prime example. Deisgned by Ryan Companies and completed in November 2007, the arena was the first to be built in the region since the late 70s, and a welcome addition for Chicagoans living outside the city center.
Sears Centre was conceived as a home for a diverse range of events, including sporting events, theater, and music concerts. To support the needs of these events, both the interior and exterior of the arena were constructed with integration foremost in mind.
The exterior architecture integrates with the landscape, hugging the ground in sweeping horizontal lines punctuated by occasional strong vertical elements. Through judicious material choices - brick, cast stone, anodized metal panel, and ample glass - the architects created an appealing look both for visitors approaching on foot and for cars zipping by on the nearby roadways.
Inside, the Sears Centre also emphasizes elegance and intelligent design. Maximum patron enjoyment was combined with interior aesthetics. It is key to patrons' experience that all aspects of the Centre run smoothly - from parking, to seating, to concession lines.
However, Stephen Hyman, CEO of the Sears Centre, emphasizes that acoustics are the deal breaker for visitors. "Without doubt, acoustics are the most important item in the building and must be considered carefully at every step of construction, from the earliest planning stages to the opening day and beyond."
The acoustical challenges called for a flexible range of ceiling solutions throughout. Hyman explains, "We aim to hit a midrange in acoustical design, with product solutions tailored to address sound issues common to all the events we host." When specifying acoustical products, the Sears Centre team looked for a line that addressed the different needs of various spaces:
© Hunter Douglas. All rights reserved.