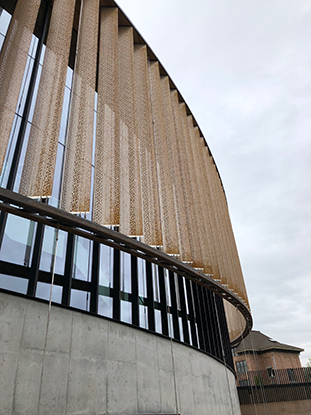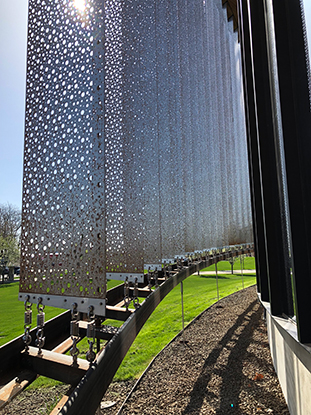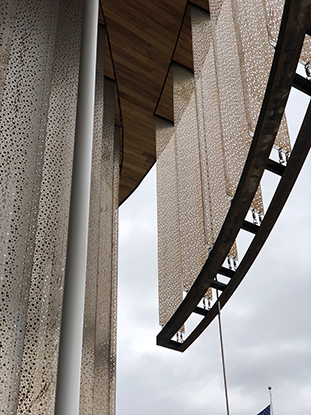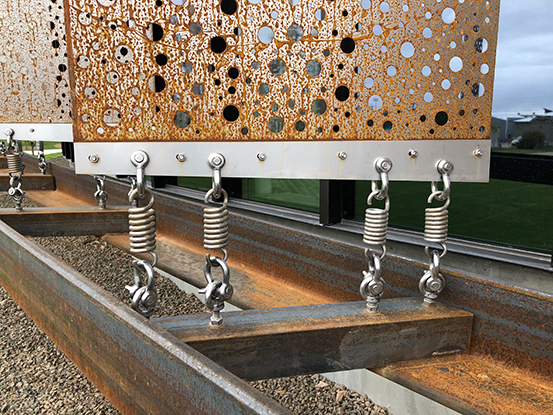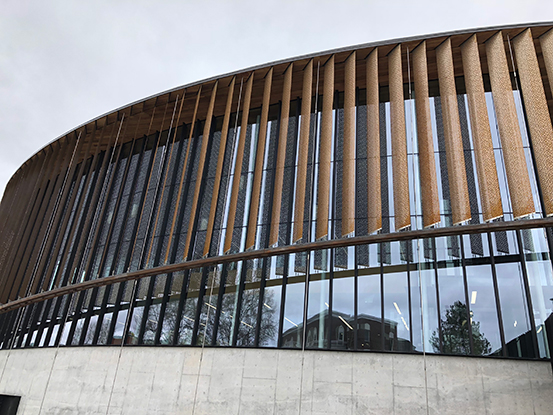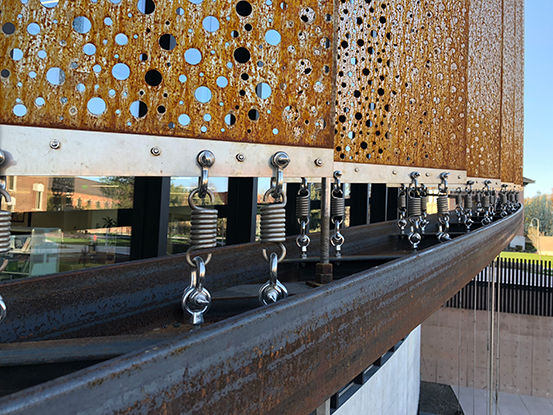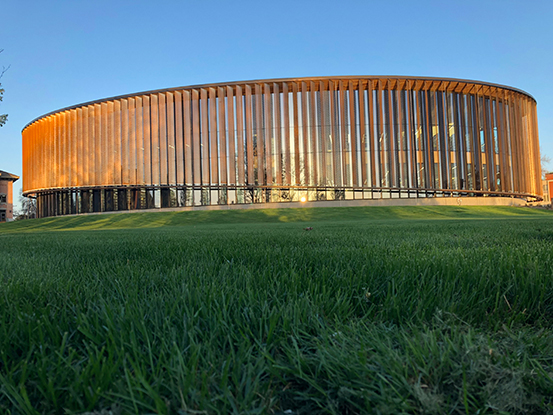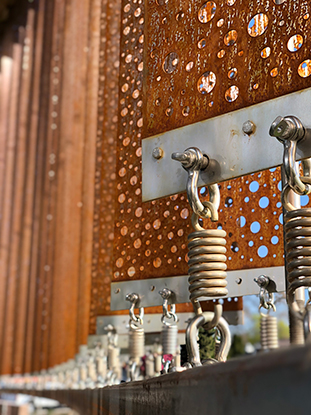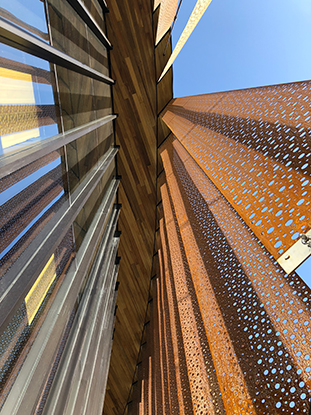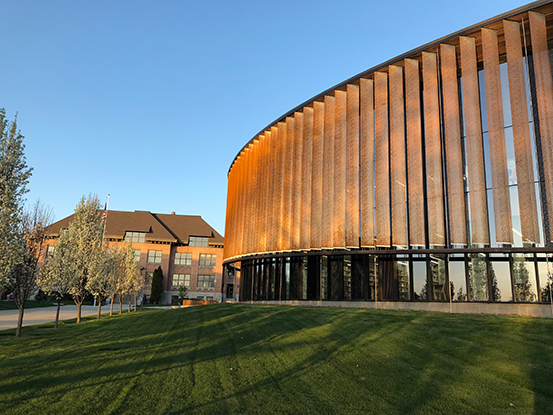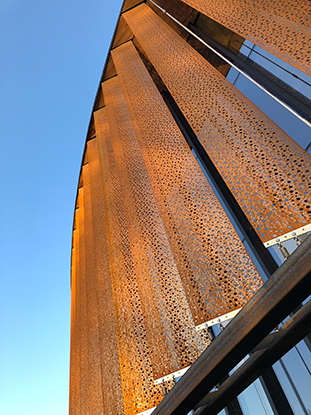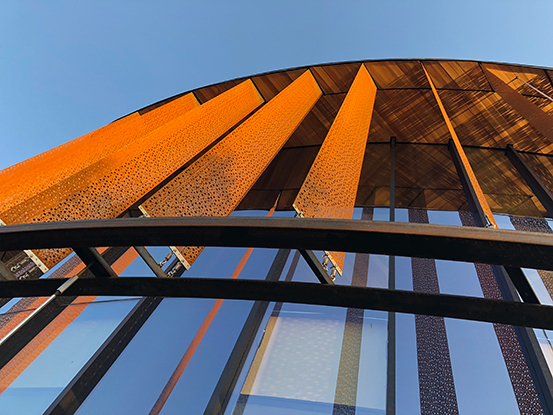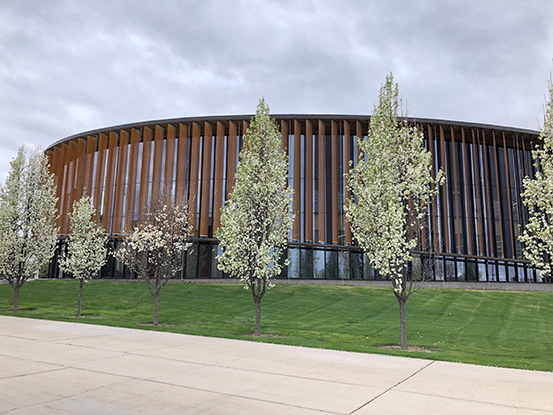 Cruzen-Murray Academic Library
Location:
Caldwell, Idaho, United States
Architect/Specifier:
Richard Kennedy Architects
Featured Products:
Custom Exterior Corten Steel Stripscreen Fins
Cruzen-Murray Academic Library is a custom-engineered project. Please contact the Regional Sales Manager in your area for additional product details.

The new Cruzen-Murray Library at the College of Idaho serves as a beacon of innovative, sustainable design at the Caldwell, Idaho campus. The light-filled, 58,620-square-foot library designed by architect richärd+bauer (now Richard Kennedy Architects), uses both active and passive approaches to reduce energy consumption, including a refined exterior solar control system, geothermal heat pump system, and roof overhang. Overall, the building is expected to use 68-percent less energy than does a typical library.

Across the elliptical-shaped building, an insulated glass curtain wall is shaded by perforated corten steel Stripscreen fins that were custom-engineered by Hunter Douglas Architectural. This is the first project in the United States that features the Stripscreen panels, which are designed to subtly transform and patina over time with exposure to natural elements. The fins' custom hardware was engineered to keep the panels under constant tension. Designed to withstand wind loads, Hunter Douglas Architectural's panels also allow for flexibility to ensure stability.

Precision was key in installing the exterior shading fins to welcome soft, natural light into the library's three-story interior at appropriate times of the year and each day. Architect richärd+bauer conducted an in-depth solar shade analysis to identify opportunities to reduce heating and cooling costs while inviting in daylight, which is known to boost productivity. Each fin is angled to reflect light during the summer and draw in warming sunlight during the winter months, reducing the need to rely on electricity to power mechanical heating and cooling systems. The Stripscreen fins, which were fixed in this case, were arranged at different angles around the spiraling building to filter sunlight while effectively preserving views.

From the outside, the perforated Stripscreen panels play with shadow patterns to create a dimensional façade that beckons passersby to take a closer look. The shading screens' steel will weather over time and rust to a deep red-brown shade, designed to ultimately mimic the color of brick, a staple on campus. Inside, the library houses over 200,000 books, a 24/7 technology lab, two multimedia classrooms, and a dramatically curved staircase, which leads to the main reading room's impactful views overlooking a sunny, two-story entrance space.
Please select desired state.
Thank you for your information. We will be in touch with you shortly.
There was an issue with saving your request, please try again.