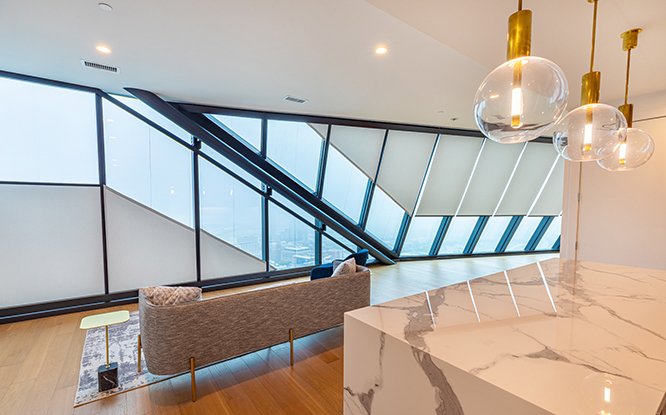 © Jim Hamel Photography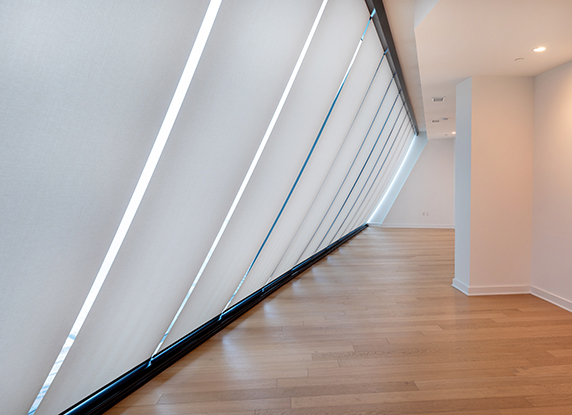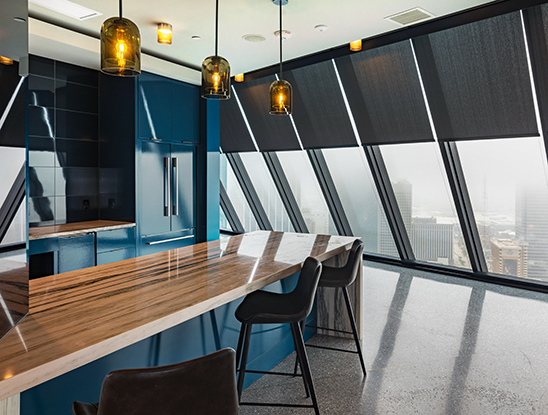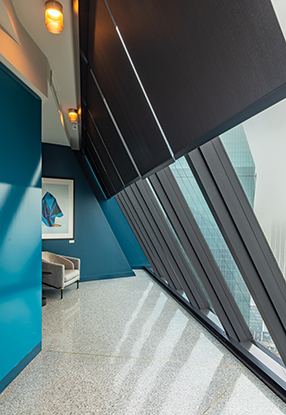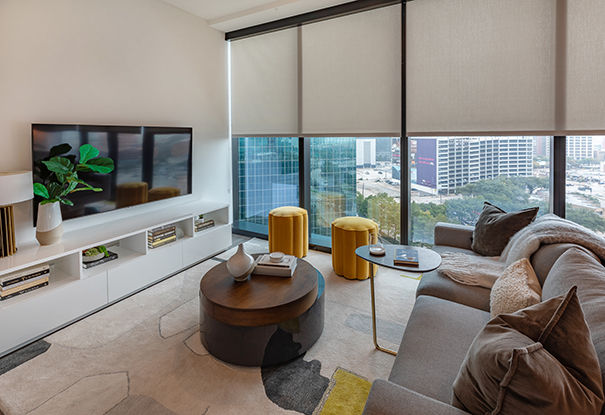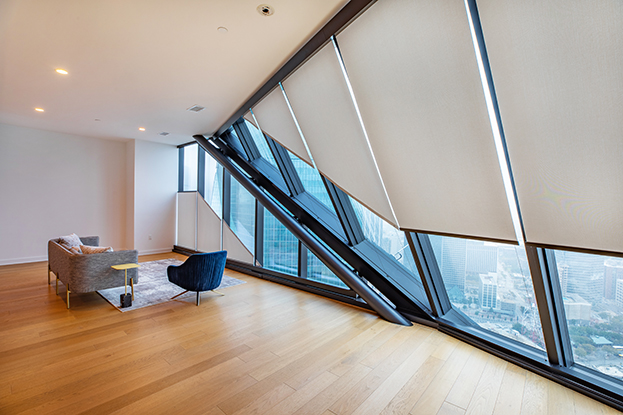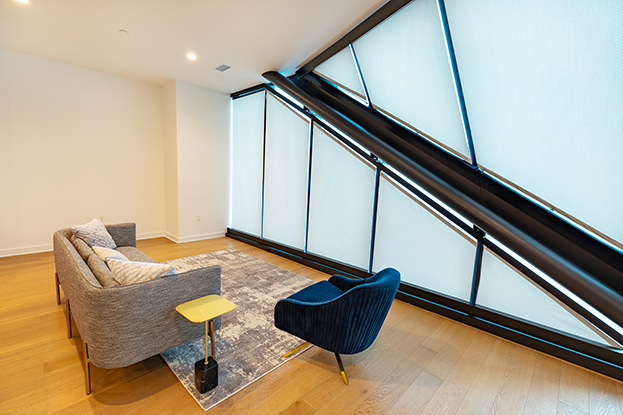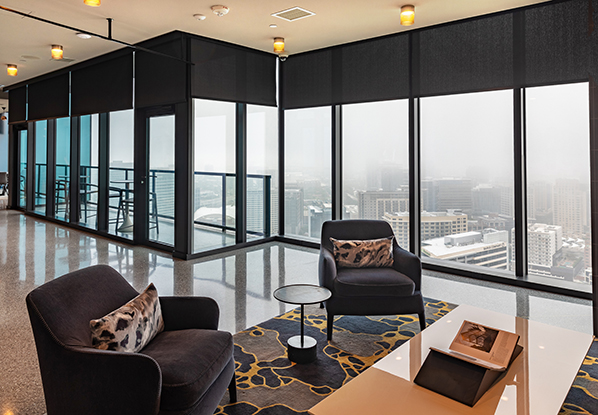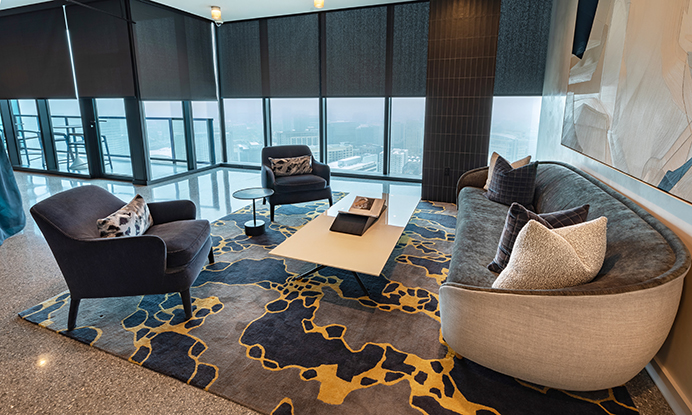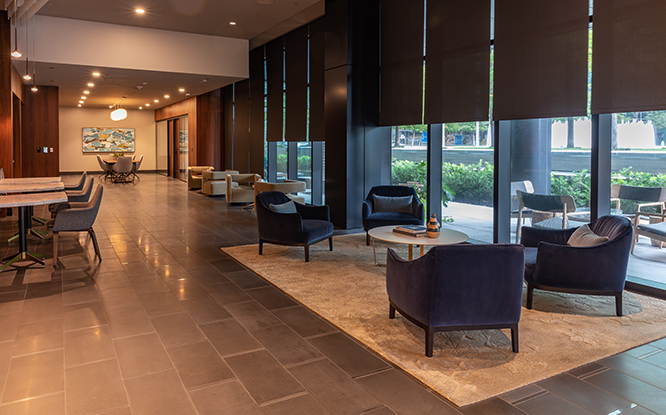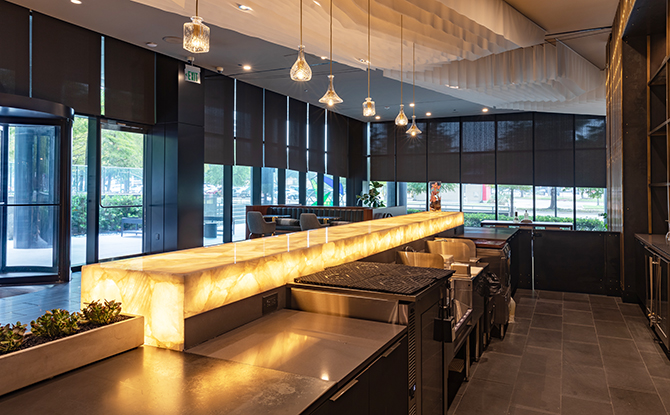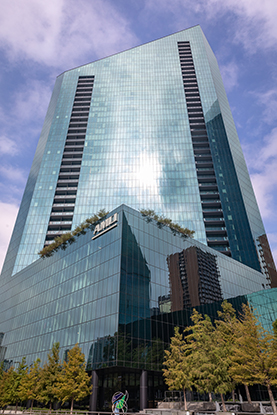 AMLI Fountain Place
Location:
Dallas, TX, United States
Architect/Specifier:
Page Southerland Page, Inc.
Would you be surprised to learn that Dallas's recently opened and thoroughly modern AMLI Fountain Place originated in the 1980s? Well, in concept, anyway. The new tower by Page Southerland Page was envisioned as a "sister" building to the city's iconic I.M. Pei and Harry Cobb-designed neighbor, Fountain Place. Instantly recognizable, the 58-story glass prism was constructed in 1986 and was intended to be the first of two towers. However, plans for a neighboring tower were shelved due to economic decline. Over 30 years later, AMLI and the team at Page have made this vision a reality by building a 45-story multifamily building with the same visual aesthetic as Fountain Place.

In line with its predecessor, the new tower is shaped by its dynamic glazing, which slopes in areas to create fifty-three geometrically unique units. Lofty ceiling heights paired with floor-to-ceiling glazing connect the building to its surroundings.

To address the building's geometry, Hunter Douglas Architectural designed a series of bottom-up and top-down shades to help manage light in its penthouse units, standard floor plans, and the panoramic 45th-floor sky lounge. Four hundred eighty motorized systems featuring custom-painted fascia, hembar, and tension box extrusions were installed in various shapes, including sloped rectangular, trapezoidal, and triangular. The shades feature a mix of screen and blackout fabrics, including our proprietary GlacierScreen+ 1% white/grey and black/grey fabrics and Phifer's SheerWeave® 7100 white/bone.

To achieve optimal views of the Fountain Place Plaza – an outdoor gathering place designed by legendary landscape architect Dan Kiley – the same dark-colored GlacierScreen+ fabric was specified for the lobby, resident lounge, and bar area. Here you will find an additional fifty 18' tall motorized shades.

This award-winning LEED Gold building features ENERGY STAR appliances, outside air ventilation, electric vehicle charging stations, community recycling, and an on-site bike storage and repair shop. Building on this solid sustainability foundation, AMLI Fountain Place ensures incredibly low greenhouse gas emissions through a Green-e certified Renewable Energy Credits (REC) purchasing agreement with Green Mountain Energy. 

At 45 stories, AMLI Fountain Place is one of the tallest buildings in downtown Dallas.
Please select desired state.
Thank you for your information. We will be in touch with you shortly.
There was an issue with saving your request, please try again.