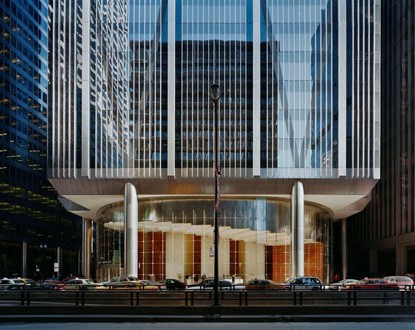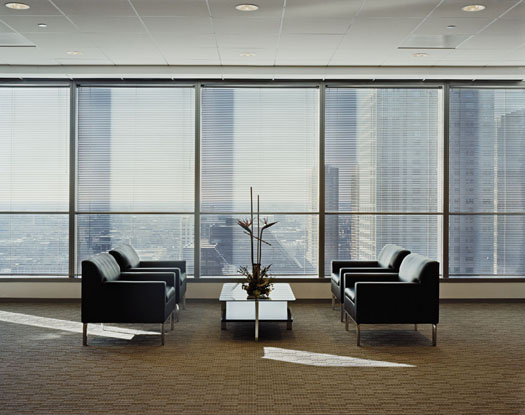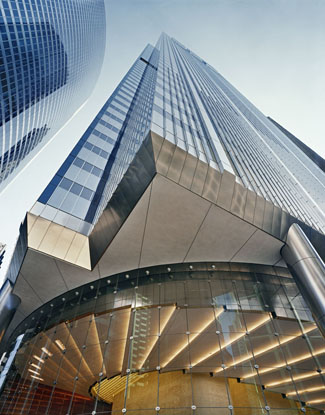 111 South Wacker
Location:
Chicago, IL, United States
Architect/Specifier:
Goettsch Partners
By Chris Sullivan
"Gateway to the Loop": That's the flattering way Chicago Tribune architecture critic Blair Kamin describes two new towers -- 111 South Wacker and the Hyatt Center -- that face each other across Monroe Street in the Windy City. In fact, these new buildings have more in common than just being neighbors. Both offer prominently curving lines to this right-angled metropolis, one at its street level and the other along its entire shaft. The two are similarly speculative office ventures boasting unusually large, column-free floor plans-big, tenant-pleasing "lease spans," to use the broker's parlance. Not insignificantly, they are also the first two high-rises in Chicago to meet the city's demanding new energy code and green standards. (And inside, each also happens to have aluminum blinds by Hunter Douglas Contract.) Both have received near-universal praise, for good reason.

On one side of the gateway stands the very model of major modern efficiency: 111 South Wacker, designed for The John Buck Company by its favored firm, Goettsch Partners (formerly Lohan Caprile Goettsch). From its distinctive cylindrical lobby-carved tightly around a hidden car ramp serving its garage above-to its green cap of planted roof, the new home for Deloitte accountants is a green giant. In fact, it became the first ever to earn the U.S. Green Building Council's LEED Gold rating for a core-and-shell project. Apparently a confluence of fortunate circumstances, and not necessarily a concerned developer, pushed it toward this coveted status. Nonetheless, it sets the standard for commercial projects to come.

While also touching on efficiency, the story across the street speaks of pure glamour: the graceful, curving lines of Pei Cobb Freed & Partners' elegantly sculpted Hyatt Center, conceived by the maestro Henry N. Cobb for the Pritzkers, a family renowned for their international architectural award. (Ironically, an earlier scheme by Pritzker Prize-winner Lord Norman Foster was thought too costly, and ditched.) Cobb's "lozenge-shaped" floor plan arcs all the way along Wacker Drive and Franklin Street, enhancing views from within and leaving a generous plaza at the street. With notched ends, the memorable shape stands out among Chicago's squared-off, muscular high-rises.

Taken together, these two super-tall yet neighborly projects tell us much about the future of "prestige" spec architecture. First, it's a viable and sustainable urban typology, even more so today as cities again become attractive to service firms. Near commuter and elevated train lines, the sites selected for the towers represent environmentally conscious choices. In fact, 111 South Wacker was even built on the in-situ caissons of a previous structure, the 1963 U.S. Gypsum headquarters by Perkins & Will.

Second lesson: The ground-floor gesture must represent a civic bequest, as Cobb has declared. "Our work, wherever possible, introduces as significant a public place as the client's project will allow," his associate partner in design, John L. Sullivan, explains. In this, the firm's first Chicago building, the elegant green plaza offers a pleasant respite for the Loop. Next door, the Goettsch design for its tight site provides at least the illusion of space, thanks to a curving, nonreflective cable wall in water-white glass, even more minimalist and tensile than that for the predecessor firm's 2002 UBS Tower.

A third lesson: Efficiency is everything-yet often unseen. For example, in addition to its column-free interiors, 111 South Wacker benefits from its extensively glazed facades. "The floors lay out 16 percent more efficiently than in 1980s-style buildings with punched-out windows, because there are fewer obstacles," notes Goettsch partner Steve Nilles. Similarly, the Hyatt Center also features practically floor-to-ceiling glass, accented by linen-textured stainless steel (a reverent nod, perhaps, to Skidmore, Owings & Merrill's nearby Inland Steel Building of 1958). In both cases, double-glazed low-E panels-clear for the Pritzkers, reflective for Buck-help meet Chicago's new, ASHRAE-based energy ordinance. Not surprisingly, both envelope designs also incorporate mini-blinds, primarily to direct daylight and control glare.

More cynical critics might complain that sustainability was only incidental to the conception of these high-rises, and that their developers profited handily from it. By capping their roofs with grass, for example, each tower earned an FAR bonus; by going green, they shaved fees or time off municipal permitting. This is, I believe, the fourth and most critical lesson: That architecturally activist mayors like Chicago's Richard M. Daley can use influence and decree to vastly improve urban life for their citizens.
Please select desired state.
Thank you for your information. We will be in touch with you shortly.
There was an issue with saving your request, please try again.