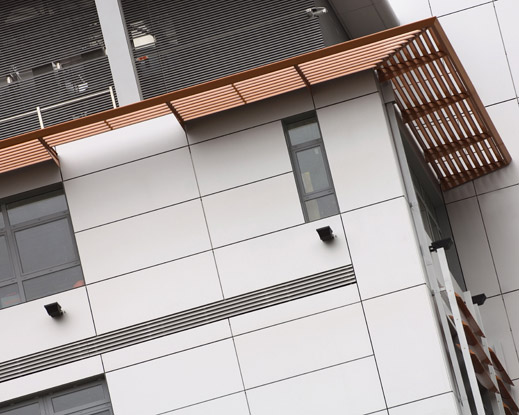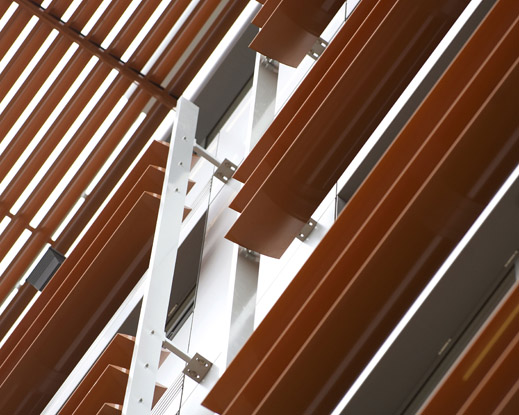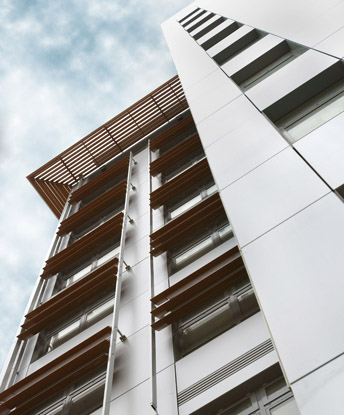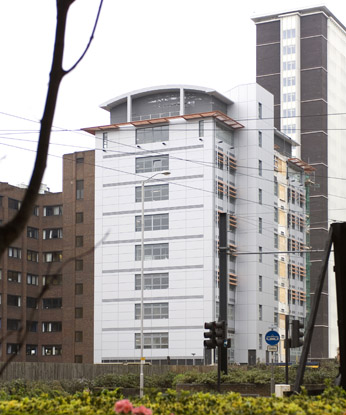 Trafalgar House
Location:
Croyden, , United Kingdom
Architect/Specifier:
PRC Group
"The better a building breathes, the better its users breathe, too." It sounds like it should be a proverb of architecture. It isn't of course. Not in a world where offices framed by closed glass curtain walls are ubiquitous.

That's changing, however, as ventilated façades -- which incorporate passive or active air exchange into a single- or double-skin envelope -- increasingly become a common-sense strategy for natural thermal control and air movement. One of the most successful new examples is Trafalgar House, a green office building in the South London neighborhood of Croydon, England, designed by PRC Group architects.

Aiming to create a structure that would increase worker productivity and deliver energy savings, the architects used solar controls and façade systems by Hunter Douglas to control heat gain. The 5,500-square-meter, un-air-conditioned structure met stringent environmental requirements to earn an "Excellent" rating from the UK's Building Research Establishment.

The nine-story office block in South London's commercial center of Croydon, will house the headquarters of the UK Land Registry. A government agency that issues land titles and records property dealings in England and Wales, its program comprises mostly open and cellular office space, as well as a gym and restaurant on the top floor.

The client's number-one priority was to earn a rating of "Excellent," the highest possible, for Trafalgar House on the environmental assessment by the UK's Building Research Establishment (called BREEAM). This rating assesses the overall sustainability of a building with regard to aesthetics, accessibility, recycling management, land and energy use, emissions, and effects on its users' well-being, among other criteria.

PRC Group's design for the structure sought to meet a comprehensive range of BREEAM requirements to achieve this rating... and help them thread the city's stringent approvals process. The clients and architects began by selecting a site for Trafalgar House on a brownfield close to both train and bus lines.

After that, the architects designed a naturally ventilated and solar-shaded building envelope to house the working spaces within. Rather than simply combining single-application products, the functional façade specified by PRC Group was designed to work as a system, reducing heat loss, guarding against excessive heat gain, and facilitating drainage and air circulation, all making the building more energy-efficient and livable.

The architects selected Hunter Douglas' QuadroClad rainscreen façade system, aerofoil louvers, and Venetian blinds to manage the building's air flow and temperature control, along with complementary windows and doors. All featured extensive use of recycled aluminum, another plus for BREEAM certification.

About 2,500 square meters of the ultra-smooth and lightweight, made-to-measure QuadroClad panels were individually fitted to a carrier system mounted to the building's concrete frame. Panels that abutted to windows and doors simply hang on special hooks without any additional flashings or fittings.

Joints between panels were left open to allow mounting of sun louvers. The openings also allow fresh air to pass in through these openings and into the raised floors when automatic intake vents are open. That air, heated by the building's normal solar gain, rises through the floor and into the concrete floor slabs, story by story, until the overall temperature rises to the point at which top-floor vents open and release the air.

In summer, when heating accelerates, Venetian blinds allows users control heat gain locally. And in winter, when the building doesn't warm quickly enough, the mechanical HVAC systems will activate perimeter radiators. Meanwhile, most heating and cooling will happen naturally, greatly reducing energy costs and CO2 emissions.

The QuadroClad façade and Aerofoil solar shading also helped the architects clear another hurdle: How to enhance the aesthetic appeal of the building. Early on, in its recommendation that the project go forward, the Mayor of London had expressed reservations about the design quality, suggesting that the building would be "very difficult to detail in such a way that it would have a satisfactory appearance."

But the range of options afforded by the integrated materials made this a non-issue, according to PRC Group architect Hitesh Dhorajiwala. "Potentially saving on energy bills was a primary factor behind the overall design," he explains. "But we've also achieved some remarkable visual results with this building, particularly with the use of sun control, which will really make it stand out from the crowd."

The horizontal sun louvers add visual interest to those looking at the building from street level. Additional solar controls in the top-floor restaurant and fitness buffs in the gym allow diners and fitness buffs to appreciate the vertical louvers that shade them while preserving expansive views of London beyond.

Such integrated solutions are becoming an increasingly common means of reducing energy consumption without significantly boosting construction costs. Cyril Sweett of building.co.uk reports, for example, that a naturally ventilated office "in a good location (a brownfield site well located for transportation and amenities)," as in Croydon, "can achieve an 'Excellent' rating for as little as a 2.5% increase in capital cost."

Energy savings and a happier, more productive workforce over the life of the building, he concludes, will mean that building developers, operators, and occupants will all benefit from such a minimal extra front-end investment. That should lead to a whole lot of people, not to mention buildings, breathing easier.
As seen in:
Please select desired state.
Thank you for your information. We will be in touch with you shortly.
There was an issue with saving your request, please try again.