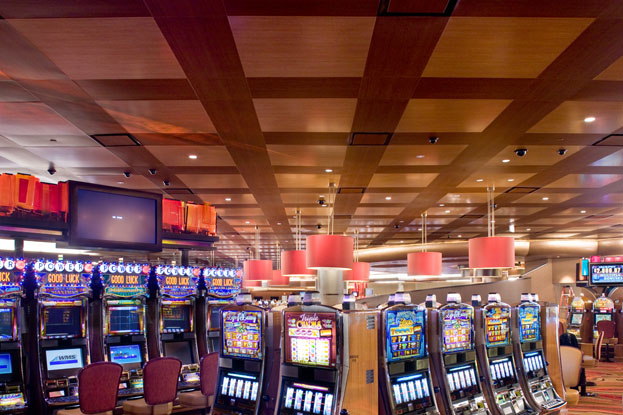 © Mark Bealer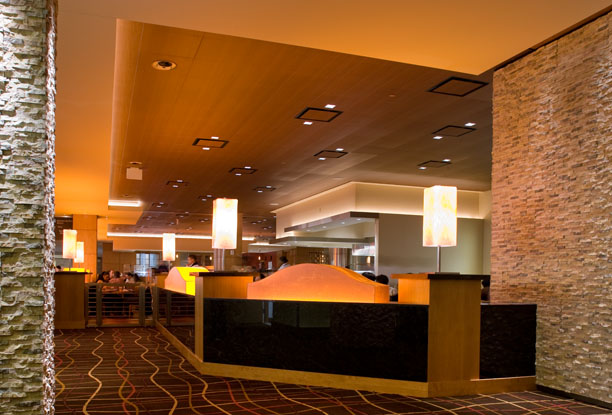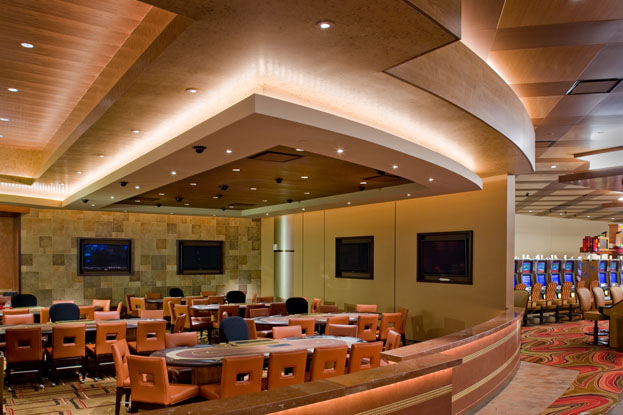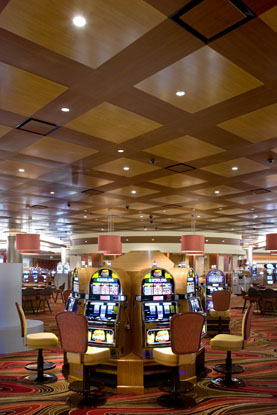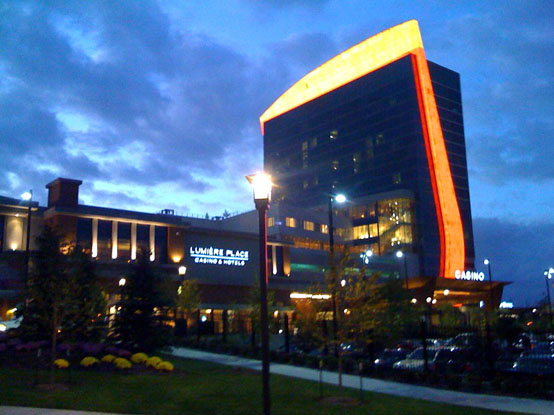 Lumiere Place Casino
Location:
St. Louis, MO, United States
Architect/Specifier:
Marnell Architecture
Lumiere Place, St. Louis's newest gaming palace, just dramatically raised the ante on the riverboat casino scene: it's a $507 million, 24-story, Las Vegas-style complex that incorporates a "boat," to technically satisfy Missouri's legal standards for casinos. The building rises several blocks away from the Mississippi river, but the casino floor is actually an eight-foot-thick concrete raft afloat in a basin holding more than 1.5 million gallons of water. Secured in place by 100 vertical retaining rods, it's said to be seaworthy, but it's not going on any cruises. Casino guests never even see the water.

Designed by Las Vegas-based Marnell Architecture, the complex delivers Las Vegas-style high-rise bling to the St. Louis scene without apology. It cost $142 million more to build than the Cardinals' new Busch Stadium, opened in 2006. Its most dramatic feature, a sculptural yoke that swoops up and over the building, is dwarfed by Eero Saarinen's iconic Gateway Arch, 630 feet high and only half a mile away. But Lumiere's glowing collar is backlit with 42,550 linear feet of LEDs that can project 16 million colors and any desired array of patterns.

Inside the 75,000 square-foot casino and lobby, the architects selected Hunter Douglas' Torsion-Spring Plank & Tile simulated wood laminate ceiling system. The owner, Pinnacle Entertainment, was looking for a more intimate feeling than in the newest generation of Las Vegas casinos, says Marnell Corrao's president of architecture, Brett Ewing. The design utilized two contrasting wood tones, Hunter Cherry and Russian Maple, to create a 'parquet' effect consisting of 4'x4', 2'x'4 and 2'x'2 panels. In addition, plaque diffusers were provided by Hunter Douglas in matching wood tones to blend. Light openings were factory-cut for precision to optimize clean, finished appearance. The ceiling features the Torsion-Spring panels which swing down for easy point-accessibility. The design also required for the ceiling trims to be approximately 1" off the wall. Hunter Douglas met this requirement with their straight and curved EdgeLine trims.

Outside, the complex comprises the low-rise building that encloses the casino gaming floor (and its unseen moat), a 2,000-space parking garage, and a 200-room hotel in the form of a sapphire glass box. The casino greets Laclede's Landing Historic District - the site of the original village of St. Louis, 224 years old - with a sober facade of brick and stone. Ewing says its materials reflect the historic Laclede's warehouses, while the proportions and visual rhythm recall Frank Lloyd Wright's Imperial Hotel. Less straight-faced is the swoopy porte-cochere, hosed at night with colored light, that revives the "Googie" California restaurant architecture of the '60s. And then there's the light bar, which wraps itself over the blue box in an embrace that's now the most prominent fixture in St. Louis's night sky.

The light bar might be more intriguing engineering than the casino-floor "boat," which has actually been done before. It's a perforated aluminum skin over a milk-white translucent acrylic, so it reads as a bronze-colored solid in the daylight but a glowing bar at night. Ewing admits there was some conscious sense of fabricating a kin to the Saarinen arch. "But to us, it was a complement," he says. "Not a competitor."

The glowing arch, intriguingly, seems to have aroused little controversy locally. For years, Deputy Mayor for Development Barbara Geisman has been urging more downtown property owners to illuminate their buildings at night, symbolizing a 24/7 environment. Frank Mares, deputy superintendent of the Jefferson National Memorial, told the St. Louis Post-Dispatch he wasn't concerned that Lumiere's arch might upstage Saarinen's. "Anything that makes the skyline better is great," he said.

The newspaper, however, did grope a bit for the city's soul in an editorial published the day of Lumiere's December 2007 opening. Maybe deep down, the Post-Dispatch said, "we are slightly embarrassed at how fast and how deep we've gotten in hock to the gambling industry. On the hallowed shore where Lewis and Clark pulled their canoes from the water ... we have fostered the construction of temples to the fast buck and glitzy entertainment." However, it was St. Louis's own mayor, Francis G. Slay, who back in 2001 invited the building of a mega-casino to compete with the suburban operations. It means more tax revenue for the city, as well as new life - and bright lights - for downtown.
As seen in:
Please select desired state.
Thank you for your information. We will be in touch with you shortly.
There was an issue with saving your request, please try again.