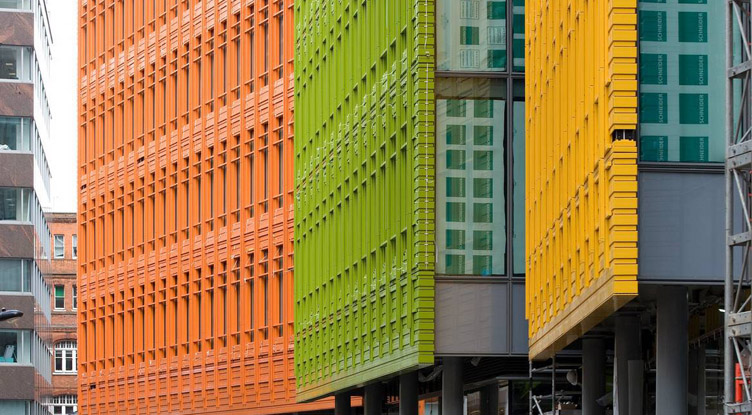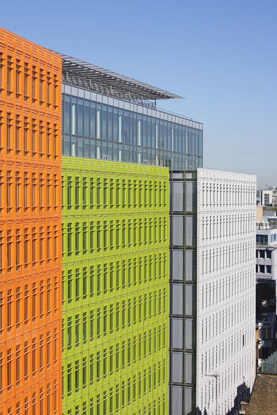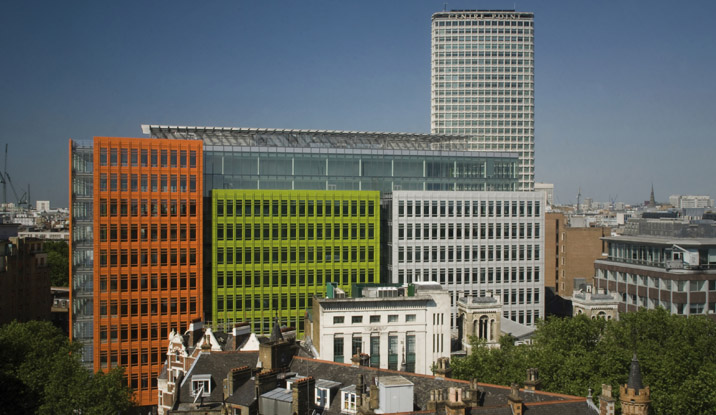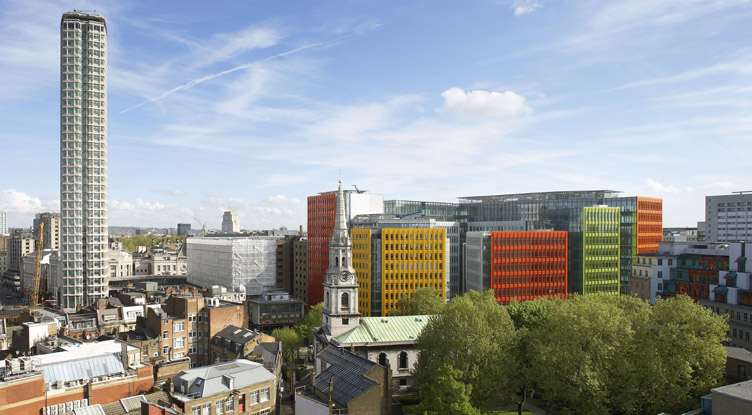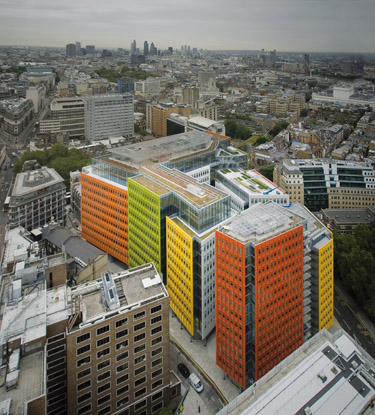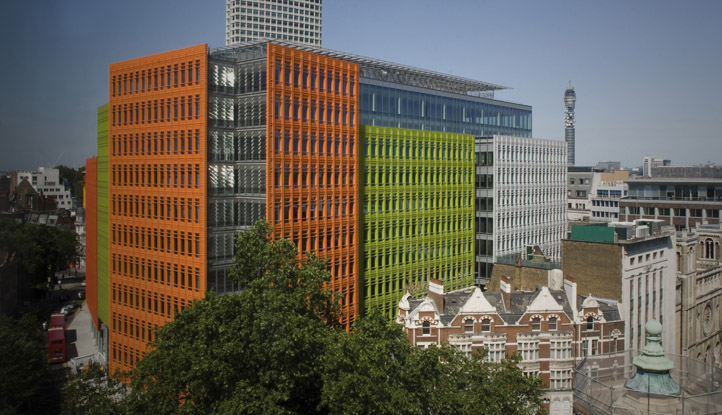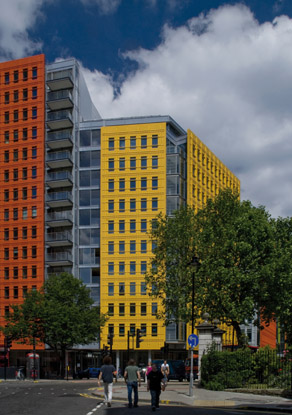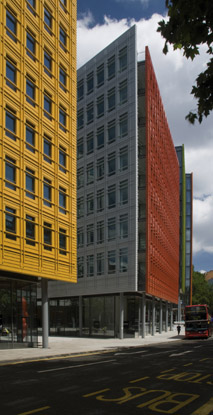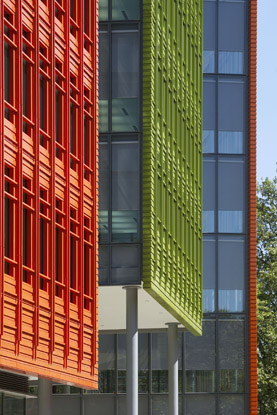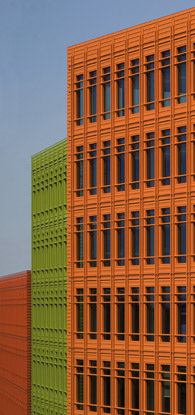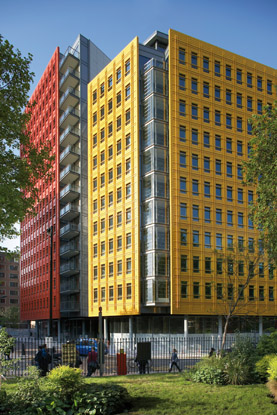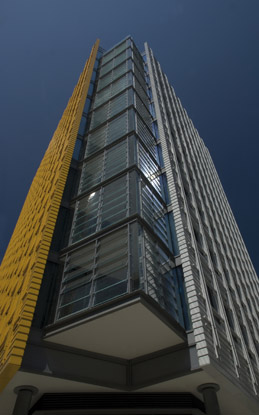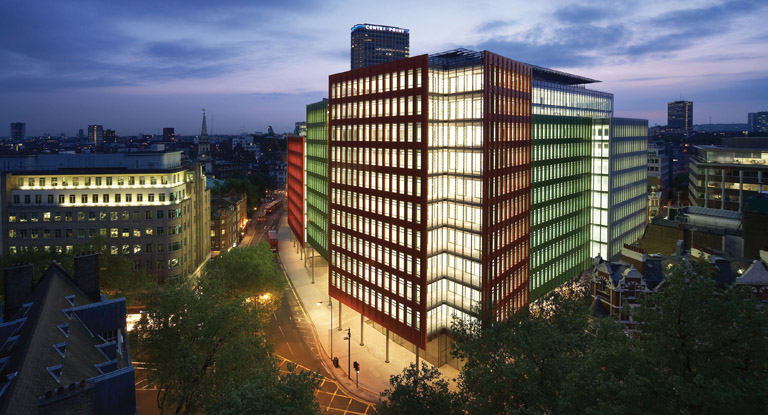 Central St. Giles
Location:
London, , United Kingdom
Architect/Specifier:
Renzo Piano
NBK Ceramic's colorful, glazed ceramic facade elements enabled world famous architect Renzo Piano to create exciting new architectural designs.

With Central Saint Giles, located between Oxford Street and Covent Garden, a new, urban highlight, designed by Renzo Piano, sets new facade standards. As part of a mixed use 46,000 square meters of office space, flats, a piazza with attractive new restaurants and workers, residents and tourists will be offered a new outstanding attraction.

Renzo Piano has designed 20-set multi-story front facades, in bright colored planes set at angles, which create a stunning play with colors. Each sub-plot of the 20 individual facades. Rarely a place for working and living was accompanied with so much architectural vitality. This confirms the formula: attractive built environment, attractive location.

BRILLIANT COLORS

The facades, in which 140,000 individual elements have been processed, consist of ceramic TERRART® elements made by the German company NBK Ceramic, which is a member of the Hunter Douglas group. NBK created this colorful facade following the specifications of Renzo Piano. Six bright colors like orange, lemon and lime were made of the glazed terracotta elements.

"The color idea came from observing the sudden surprise given by brilliant colors in that part of the city," said Renzo Piano. "Cities should not be boring or repetitive. One of the reasons cities are so beautiful, is that they are full of surprises, the idea of color represents a joyful surprise."

MODERN CLASSIC

The multi-story front facades are the epitome of a successful combination of modern engineering and Neoclassic architecture. Although the style of the architecture at first sight looks 18th century, the facade is made from of glazed ceramic elements, made with beautiful precision and assembled with a technically advanced complexity. Each facade plane is constructed as a unitized construction, of which each unit of the facade is pre-assembled with ceramic elements. Each window/facade element was then lifted into place with pulleys and aligned in acrobatic fashion by means of suction cups, as no exposed scaffolding and cranes were allowed in the location.

OUTSTANDING QUALITY

In addition to the corrosion and frost resistance of the fired ceramic elements, TERRART® facade elements support the creative architectural concept with a color selection that allows any RAL color. This enabled the ceramic facade element to highlight the exterior facade.

Construction on Central Saint Giles was completed in 2010, bringing exciting new architecture to another urban public space in London.
Please select desired state.
Thank you for your information. We will be in touch with you shortly.
There was an issue with saving your request, please try again.