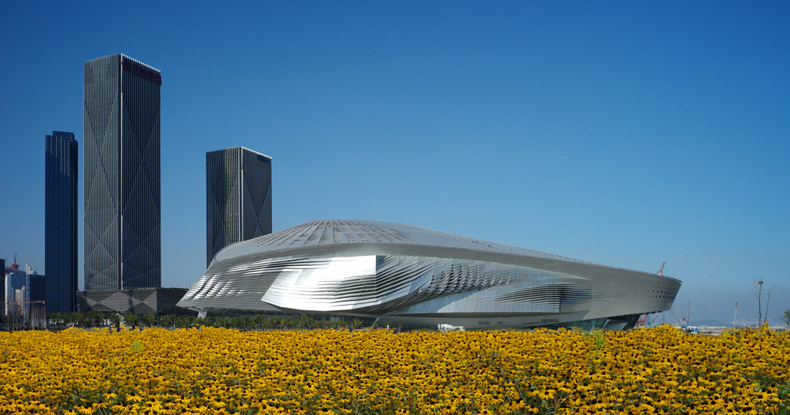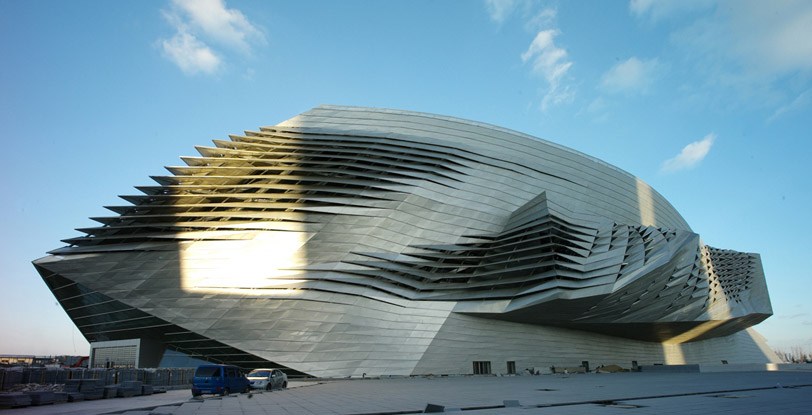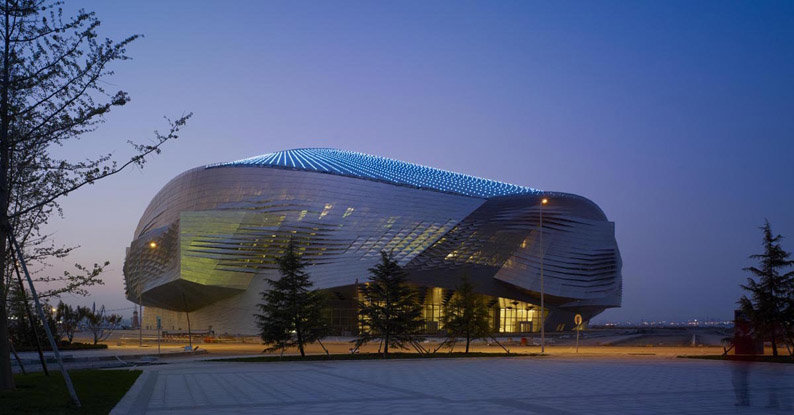 Dalian International Conference Center
Location:
Dalian, , China
Architect/Specifier:
Coop Himmelb(l)au, Dalian Architectural Design & Research Institute
The port city of Dalian China is now home to a brilliant metal building seemingly in motion--the Dalian International Conference Center. Primed to spur development in the central business district, this low-lying futuristic multi-purpose building is situated among tall skyscrapers.

Plans for this landmark structure began back in 2008, when the firm Coop Himmelb(l)au won a design competition. Led by architect Wolf D. Prix, design work began on the building comprised of several functional areas, including a lobby, a grand opera house seating 1,600, conference halls, meeting rooms and a comprehensive service area. Covering a land area of 4.3 hectares, the building is 59 meters tall, with a total floor area of 146,800 square meters, one floor under ground and four floors above ground.

The building's exterior is comprised of QuadroClad™ Metal Façade Panels (by Hunter Douglas Contract). This lightweight rainscreen façade system controls rain penetration, maintains ventilation, and provide thermal insulation.

The center's bold sculptural design speaks to cultural characteristics of the modern era, yet evokes the city's historic ties to the sea. "In Dalian, the building's aluminum skins define the volume, but it behaves independently of the structure, says Joseph Giovannini of ARCHITECT, "the structure—a hybrid of space frames, columns, and beams joined in complex knots—plays a passive role without structuring the experience. Structure is neither dominant nor determinant."

The Dalian International Conference Center is winner of the Hunter Douglas 2012 Project of the Year Award.
Please select desired state.
Thank you for your information. We will be in touch with you shortly.
There was an issue with saving your request, please try again.