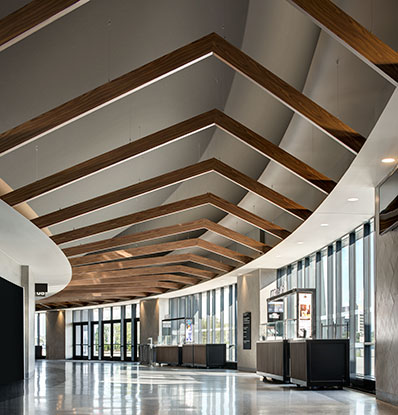 ©Richard Cadan Photography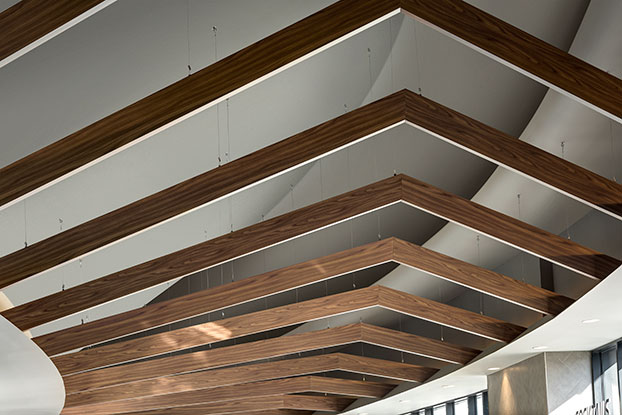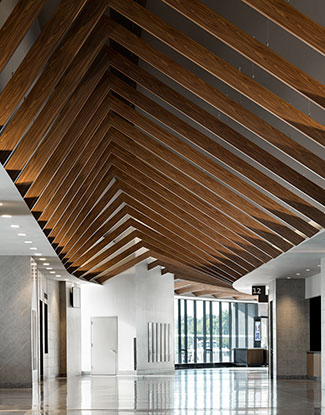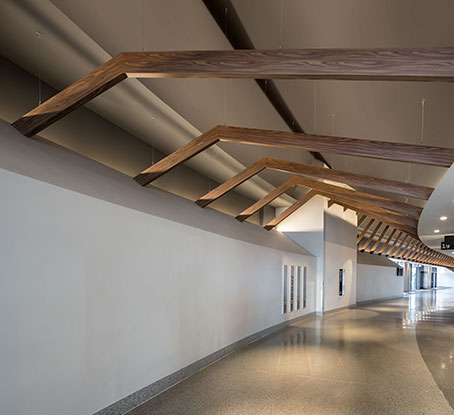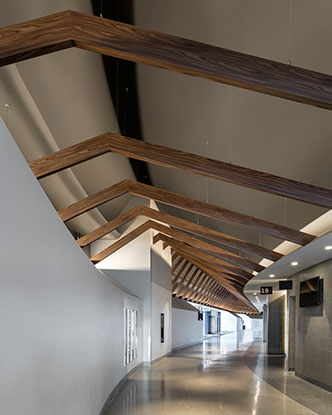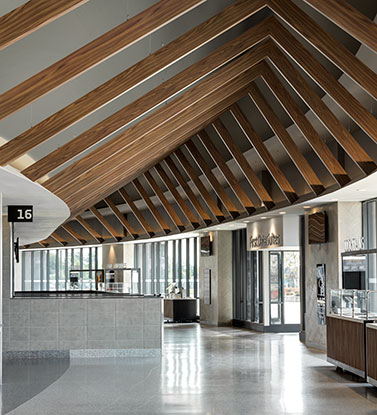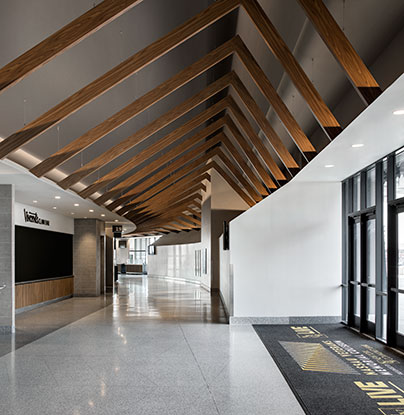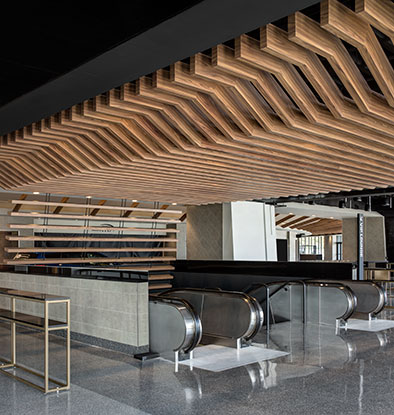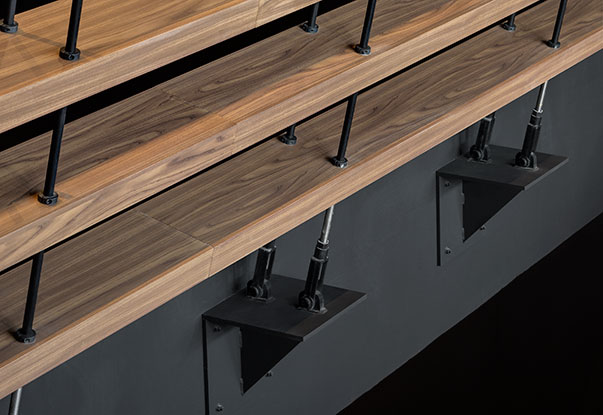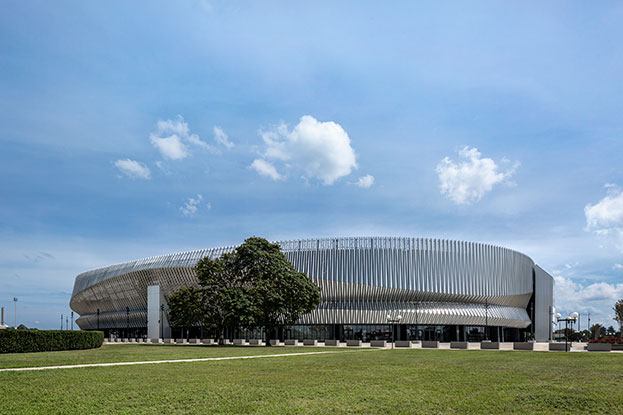 Nassau Veterans Memorial Coliseum
Location:
Uniondale, NY, United States
Architect/Specifier:
Gensler
Since its opening in 1972, the Nassau Veterans Memorial Coliseum in Uniondale, New York has hosted professional sports and music megastars for over 40 years. Located on a former Army/Air Force base, the 416,000 square-foot arena required an extensive renovation to modernize its facilities for today's artists, tenants, and fans. The iconic facility embarked on an 18-month, $165-million-dollar major renovation process in August of 2015, which was completed in April of 2017.

Hunter Douglas Architectural worked alongside architects and designers at Gensler, contractors from Hunt Construction Group, and acousticians and installers at Cord Contracting Inc. on the project. Extensive coordination was required to meet the overall design goals and install a total of 6,000 linear feet of striking, custom-engineered ceiling elements. The project boasts a wood-look High Profile Series™ Frameworks ceiling system made up of lightweight, extruded aluminum beams that are precision-engineered and fabricated to meet project needs. The ceiling elements create a sense of motion along the rafters of the concourse through varying heights, angles, and peaks that create a wave-like visual effect. A matching shelf-wall constructed with High Profile Series™ Straight Baffles adds an elegant sense of unity to complete the space.

On the interior, architects and designers sought to make a new design statement while maintaining some aspects of the existing infrastructure, including backstage sections, retail and concession areas, as well as the concourse itself. To avoid altering existing ceilings, thin cables were used to provide structural support for the beams in addition to wall and ceiling attachments.

"The client, architect, and contractors wanted minimal penetrations to the existing deck above due to pre-existing conditions and the overall aesthetic," explained Hunter Pope, Architectural Sales Manager at Hunter Douglas Architectural.

Ultimately, the design concept relied on creating an energized yet sophisticated atmosphere and a fresh experience for visitors, while also working to alleviate past crowding issues. This was achieved by opening up the connection between the interior bowl and the exterior grounds.

Overhead, the 6,000 linear feet of custom-engineered High Profile Series™ Frameworks represent a key design element of the concourse's new look, unifying the structure's interior space with its new, swooping exterior. Hunter Douglas Architectural's in-house ceilings experts worked closely with Gensler's designers to develop detailed models for a custom rafter application of extruded aluminum beams at various angles and lengths that form peaks through the concourse. The changing peak heights create a wave-like effect while the wood-look finish of the beams brings natural warmth and texture to the space. Manufacturers and subcontractors collaborated throughout extensive layout and engineering stages, as well as precision fabrication.

Richard Meyer, a subcontractor with Cord Construction, believes that the Hunter Douglas team did "a nice job putting it all together. I don't think anyone's really done that type of system before. There was definitely a lot of designing involved in this custom work."

The screen and shelf wall, which was designed, engineered and fabricated in-house using High Profile Series™ Straight Baffles, defines a main entrance to the facility and thematically extends the wood ceiling aesthetic along an escalator.

"We had to design, test, and engineer all the calculations to make sure that the shelf beams were stable and would hold up," Pope explained. "This is the very first time we have created a screen wall with extrusions. This was extremely challenging. We had to go through the process of engineering all components from structural plates to steel yokes to escutcheon washers" in order to ensure stability and durability in the long term.

The Nassau Coliseum redesign, which debuted to the public in the spring of 2017, illustrates Hunter Douglas Architectural's savvy ability to create custom, project-specific systems with impactful, durable style to meet both the design intent and site requirements.
As seen in:
Please select desired state.
Thank you for your information. We will be in touch with you shortly.
There was an issue with saving your request, please try again.