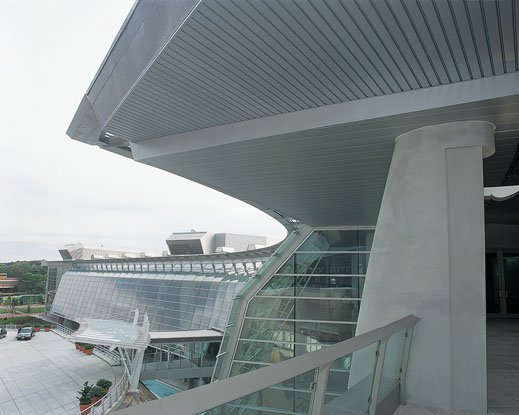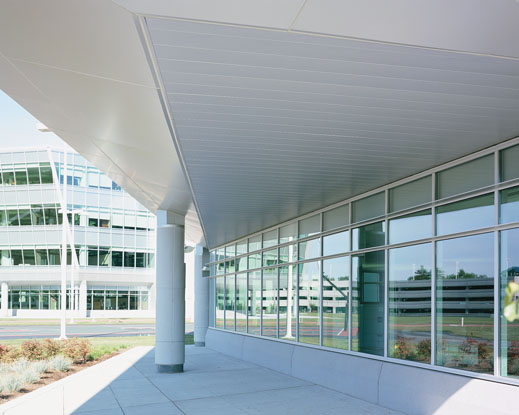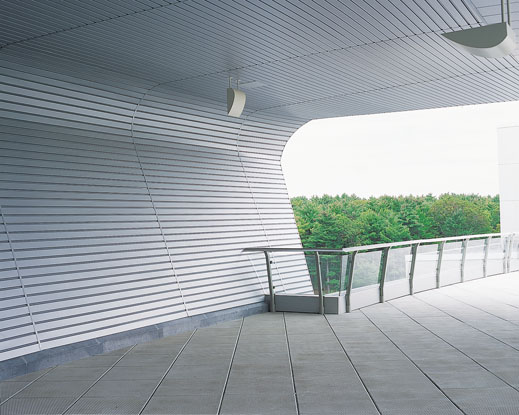 Reebok World HQ
Location:
Canton, MA, , United States
Architect/Specifier:
NBBJ Architects of Seattle
Reebok's 522,000 square foot world headquarters outside Boston by NBBJ Architects of Seattle features elements that convey the energy of the athletic products company: curved walls and windows, tight angles, and sleek interiors with ceilings that blend into walls. Overall the design creates "a sense of movement, achievement, and cutting-edge creativity to reflect the company's personality," says company spokesperson Bonnie Duncan. In recognition, the design won a prestigious American Architectural Award from the Chicago Athenaeum. Ceiling systems from Hunter Douglas are a key element, with 300C wide panels creating smooth, uninterupted surfaces in the outdoor soffits; a Box 4 linear system defining the walls and ceiling of the indoor terrace; and acoustically lined panels controlling sound in the three-story, 30,000 square-foot fitness center. Better yet, the nearly 100,000 square feet of Hunter Douglas products are all composed of recycled products, helping meet Reebok's environmental goals.
Please select desired state.
Thank you for your information. We will be in touch with you shortly.
There was an issue with saving your request, please try again.